Somatic Yoga Teacher Training
A 250 hour yoga teacher training
for yogini's and intuitive movers who are ready to release holding patterns from their body, develop a Soul-connected movement practice, & become certified somatic yoga instructors
{Begins JANUARY, 2023}
Apply
Somatic Yoga Teacher Training
A 250 hour yoga teacher training
for yogini's and intuitive movers who are ready to release holding patterns from their body, develop a Soul-connected movement practice, & become certified somatic yoga instructors
{Begins JANUARY, 2023}
Apply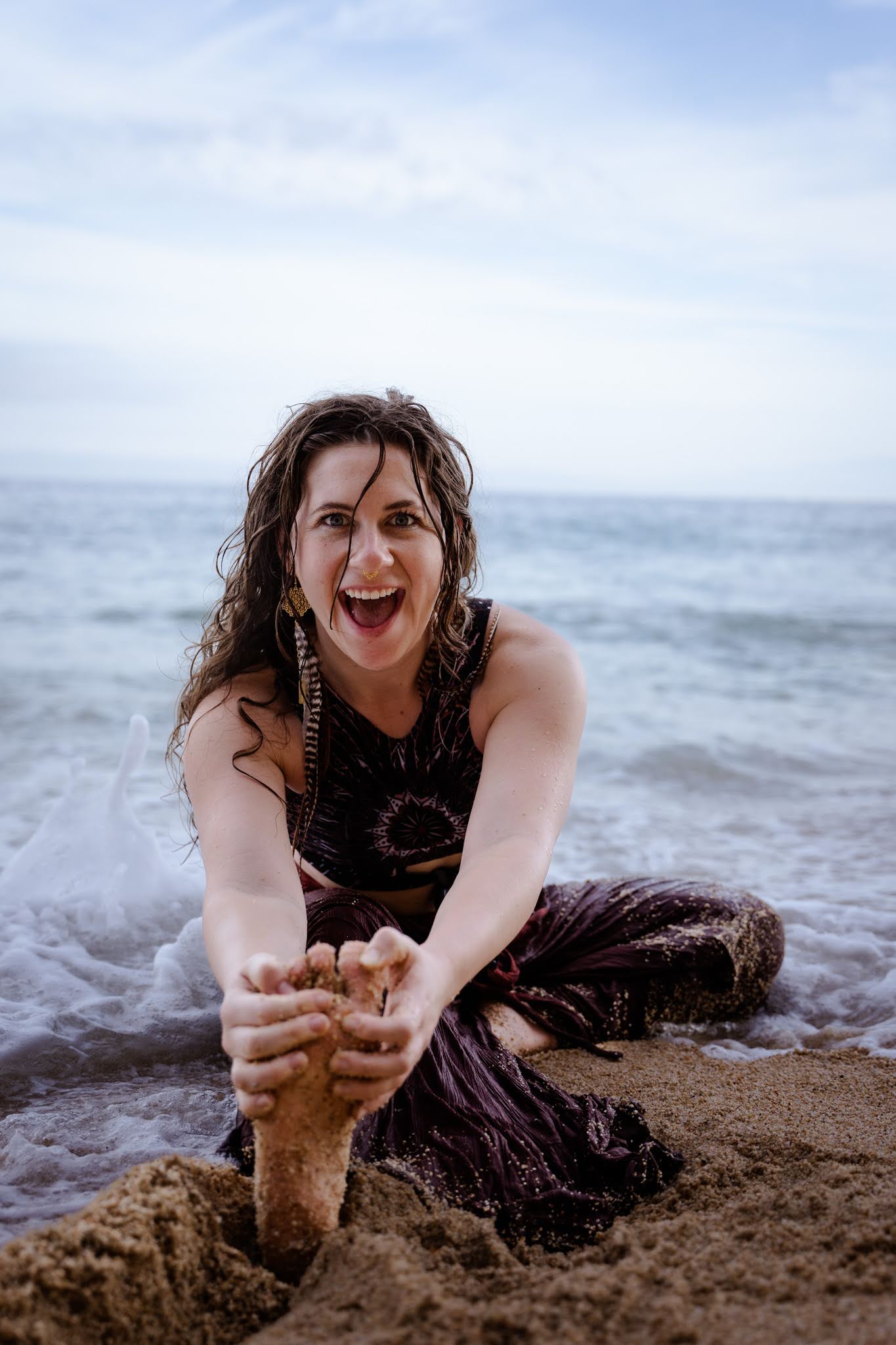 Welcome, movers and feelers!
If you're reading this webpage, I know you adore your yoga practice, and all of the balance and health magnetized into your life.
To you, yoga is not just about movement… it's a way to pray, to meditate, to practice ritual, and to reconnect to your WHOLE authentic self.
You love exploring soft, sensual forms of yoga where you get to REST and RECEIVE.
Yet you're also in love with expressive and activated movement like shaking and dance, where you can push boundaries, discharge energy, learn new patterns, and grow.
The Somatic Yoga Teacher Training is an initiation into the art of yoga, backed by ancient wisdom and modern science.
This journey will help you learn how to open your heart, body, and mind more fully.
It will also guide you to unlocking the power that resides inside your body so you can SELF HEAL.
And, finally, you'll learn how to give this incredible gift back to your community and the people you are destined to serve.
The world NEEDS you sharing your voice, your gifts, and your medicine… now more than ever.
Receive REAL LIFE tools and methods from ancient wisdom and modern science to help you:
– elevate your yoga practice to the next level
– explore and guide intuitive somatic healing through movement, meditation, & breath
– deepen your relationship with your body, heart, and mind
– explore & refine your teaching, presence, & leadership skills
– and, expand into the life, love, and abundance you were born for
Words cant do justice the love, gratitude, and abundant peace this course/ overall experience has given me. This course has allowed me to access true freedom. Limitless, beautiful, joyful freedom, contentment, trust, and self love. I am forever grateful!
Balance your Body. Clear your Mind. Ignite your Soul.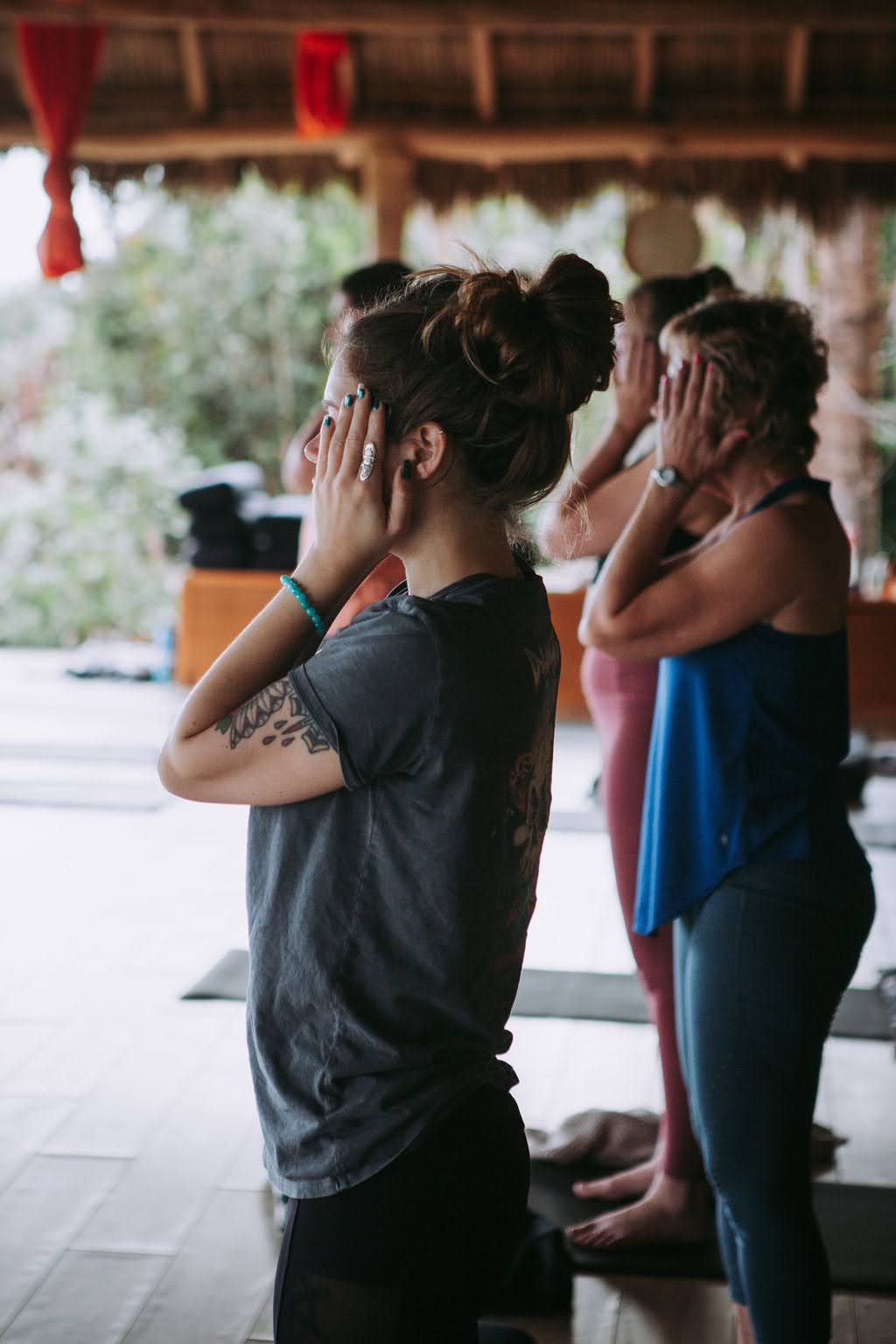 This training is for you, if you're called to…
✨Confidently and competently teach yoga!
✨Embody yoga as a way of life
✨Create a sustainable asana/movement practice that evolves with the ebbs and flows of your body, cycles, and life
✨Clear out the mental clutter that keeps you from truly standing in your power
✨Gain the confidence needed to step fully into your leadership potential
✨Release chronic holding patterns full of tension and pain
✨Awaken and embolden your embodied intuition
✨Hold the torch of sacred light as you teach, guide, and illuminate the way for the people you are destined to serve
My journey in this yoga teacher training was wildly transformational. I came with no self-confidence, broken, and fearful. I'm leaving with an open heart filled with joy, empowered and feeling like the magic I am. There is not one thing that I would have changed.
Here at Her Temple, we approach yoga a little... differently.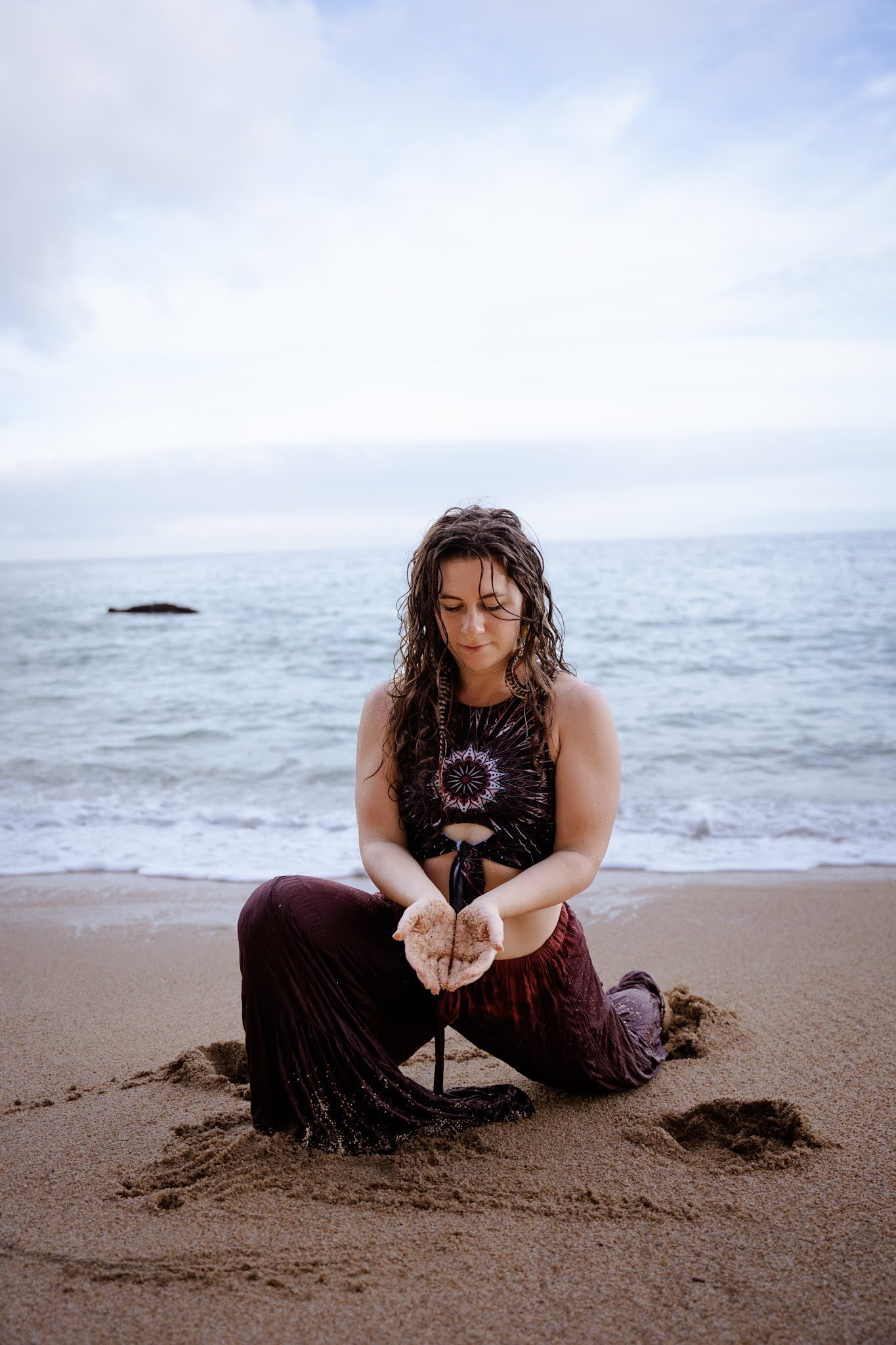 What is Somatic Yoga?!
Our approach to yoga is different than you might be used to.
Movement. Movement is medicine. Especially, conscious movement. By blending the arts of somatics and yoga, we. empower you to connect to your body's wisdom above all else. While learning foundational yoga asana (postures) is a key portion of this training, it's not the dominant focus. We explore intuitive and spontaneous movements that emerge from within, micro-movements, as well as primal movement patterns that support the functional integration of the entire body.
Meditation. Meditation is the foundation of where yoga comes from! We think of yoga as "meditation in motion." Many forms of seated meditation work wonderfully for taking one "up and out." In other words, meditation can be used to develop consciousness, spirituality, discernment, and connection to the Universe. We love this and also utilize forms of meditation designed to take one "down and in" – meaning meditation practices that are designed to help you connect more deeply to your body, humanity, emotions, and sensuality. 
Intuition. Many yoga practices can become prescriptive by nature. The yoga we teach is not. While this program provides a strong foundation and structure needed to understand how to safely and competently guide a group of humans through a yoga practice, we also teach how to awaken internal movement impulses, somatic intelligence, and intuitive yoga from within (known as sahaja)
Integration. We honor and respect the many powerful lineages from which yoga emerges and we have studied. This program is not strictly taken from any one lineage, and is an approach that INTEGRATES a myriad of ancient teachings and yoga practices with modern neuroscience
Feminine form. Many of the yoga practices we know today in the west were created by and for male bodies. This program is led by and for womxn, and we are carving a new path to explore how yoga emerges from and for the feminine form.
Trauma-informed. Being trauma-informed is not optional nowadays. This program has trauma-integration as a key pillar and foundation, and teaches a style of yoga that works WITH the nervous system rather than against it.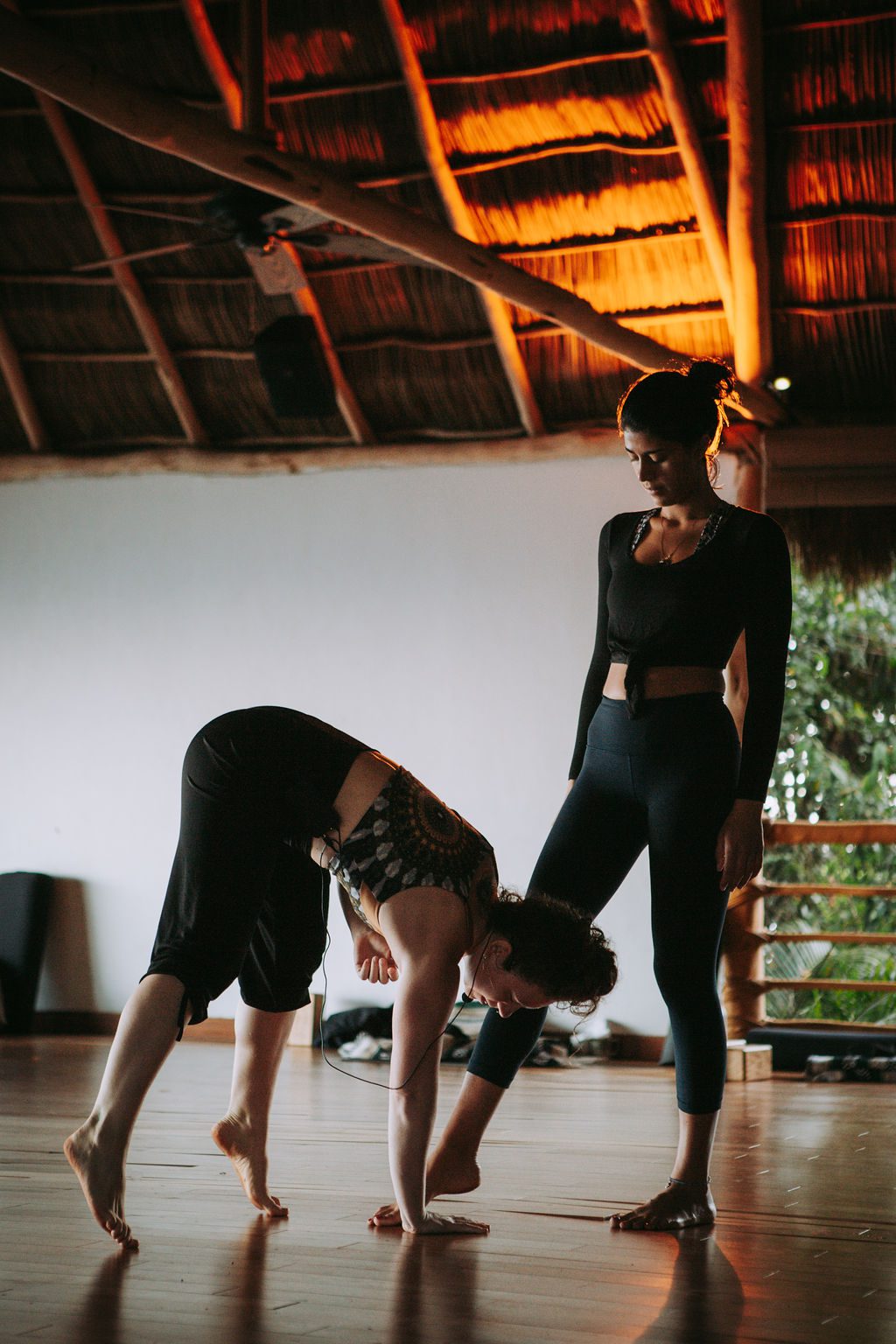 ABOUT THE PROGRAM
This training is a deep dive into the embodied and enheartened path of teaching yoga for healers, movers, seekers, and feelers. In this immersive training, you'll dive into all aspects of your yoga practice from asana and intuitive movement, to breathwork and meditation, to ayurveda, yoga psychology and more.
Develop a deep and resonant connection to your own Inner Being as a foundational pillar of your ever evolving yoga practice.
Activate your inner leadership skills to transmute these practices onward in the world with confidence, grace, and authenticity.
This is so much more than a yoga teacher training. It is an initiation designed to support you in stepping through the portals of the body, heart, and mind into your full power, purpose, and presence.
"Kaity has a presence like no one I have ever met, she embodies what it means to be a true Yogini. She creates an incredible community for learning, growing, and sharing!"
Three Empowering Initiations
+ an integrative mentorship

1. Root
January 25th – 29th, 2023
Root down in simplicity and set a solid foundation for our studies. Let's go back to the basics, establish safety, and begin to fully understand how the more simple a practice is, the more powerful. We'll explore:
Rituals for Sacred Self Care

The art of listening & communication

Foundational yoga history, philosophy, & psychology

Experiential anatomy & physiology

Foundations of the nervous system, grounding, and establishing safety

Trauma-informed yoga

Pratapana & posture clinics

2. Ignite
February 22nd – 26th, 2023
Deepen your leadership skills, amplify your teaching presence, explore your edges, and ignite your inner fire. Become a torch-holder of your sacred light, and learn how to shine it fully.
The energy body

Pranayama

Deeper yoga psychology and philosophy




Teaching methodology & tools

Hands-on assists

Asana blueprints and posture clinics 

Somatics 3. Expand
April 5th – 9th, 2023
Now that the foundations have been lain, you'll learn to expand and rise. This is the space for accessing creativity, flow, and elevated states of consciousness in your yoga practice.
Meditation in Motion, Sahaja

Guiding meditation & Savasana




Mantra & Mudra

Yoga Nidra

Sequencing and theming your classes

Working with Sub Personalities, Protective Parts, & Trauma + Experiential Anatomy & Myofascial Release
Online Immersions with Iysha Nobes
Sunday Feb 19th: 9am – 2pm MST

Saturday March 4th: 9am – 2pm MST

Sunday March 5th: 9am – 2pm MST

Saturday March 11th: 9am – 2pm MST

Saturday April 15th: 9am – 2pm MST

Sunday April 16th: 9am – 2pm MST + FLOW (Integrative Mentorship)
After your final initiation, you'll complete 10 additional practicum teaching hours to jumpstart your transition from our training into the world, supported by bi-weekly live-online mentorship calls to up-level your skills as a Somatic Yoga Teacher.
Teach classes to REAL-WORLD students (can be paid or unpaid hours)

Receive feedback, mentorship, and guidance from Kaity and the team

Receive a supportive transition to move from the program into your teaching practice

Access additional supplementary content to deepen your skillset
Schedule:
April 20th, 2-4p MST

May 11th, 2-4p MST

May 25th, 2-4p MST

June 8th, 2-4p MST

June 22nd, 2-4p MST

July 6th, 2-4p MST + Embodiment Retreat (Optional)
April 30th – May 6th, 2023
An opportunity to deepen your personal practice!

Additional expenses apply



Hosted at Xinalani in Mexico. MORE INFO HERE Here's a glimpse of what you'll learn in our Somatic Yoga Teacher Training:
Our Trauma-Sensitive program dives into practices & topics such as:
The 8 Limbs of Yoga

Somatics & the art of micro-movements/pandiculation

Therapeutic Vinyasa
Restorative and Yin Foundations
Primal Movement Patterns

Meditation, Mudra, & Pranayama

Intuitive anatomy & foundational myo-fascial release

Posture Clinics

Yogic philosophy & psychology

Yoga tantra
Yoga nidra

Prana and the subtle body

Ayurveda and nature connection

Awakening your voice, power, and "inner jaguar"

Adaptive yoga practices for diverse populations
Trauma-sensitive yoga & nervous system harmonizing practices
Intuitive embodiment practices

Developing skills for teaching with confidence and grace

Money, business, and career growth
What's included in the program?
✔ 3 immersive, in-person initiations
✔ experiential anatomy and myofascial release training
✔ post-training mentorship for integrating and embodying your new knowledge
✔ practicum hours for gaining teaching experience out in the world and increasing your confidence as an instructor
✔ 1×1 office hours check-in calls with Kaity
✔ at-home meditation, breath-work, & yoga practices
✔ in-depth manuals for deepening your experience
✔ first-hand feedback from our instructors
✔ online + in-person community
✔ business development resources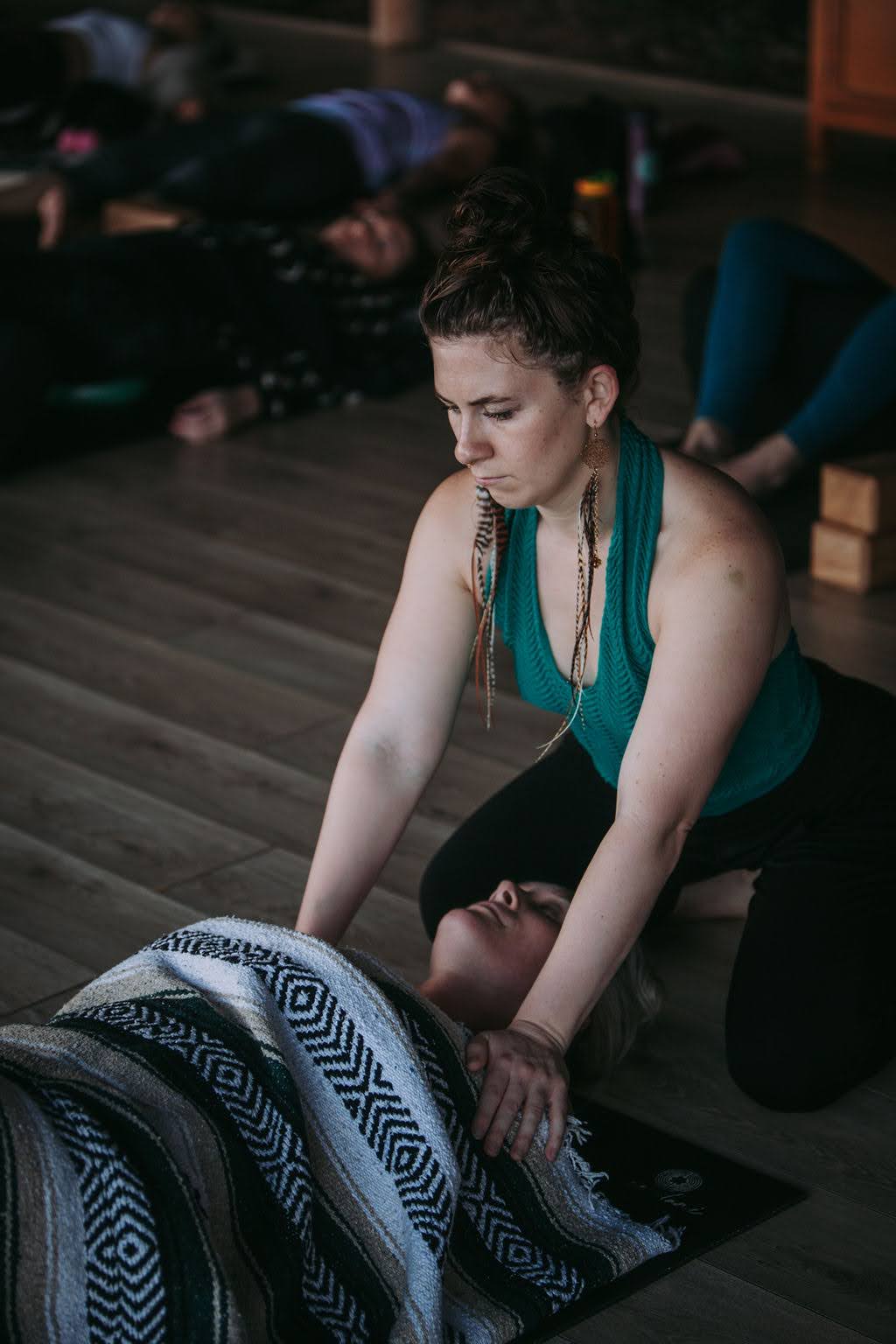 Who this is for...
The Somatic Yoga Teacher Training is for movers, feelers, and shakers who are ready to embody the meaning of yoga in their day to day lives, and share the gift of yoga with the world.
It is for you if you…
Are ready to elevate your yoga practice to the next level
Yearn for more heart-connection, spiritual growth, and physical vitality
Are a healer, leader, empath, or nurturer
Envision yourself, in some way or form, sharing the art of yoga with your community
Are ready to awaken your internal power, ownership, and self responsibility.
Don't fit in with traditional schooling or the popular culture, and feel a call to pave a new way and create community full of depth, authenticity, and belonging.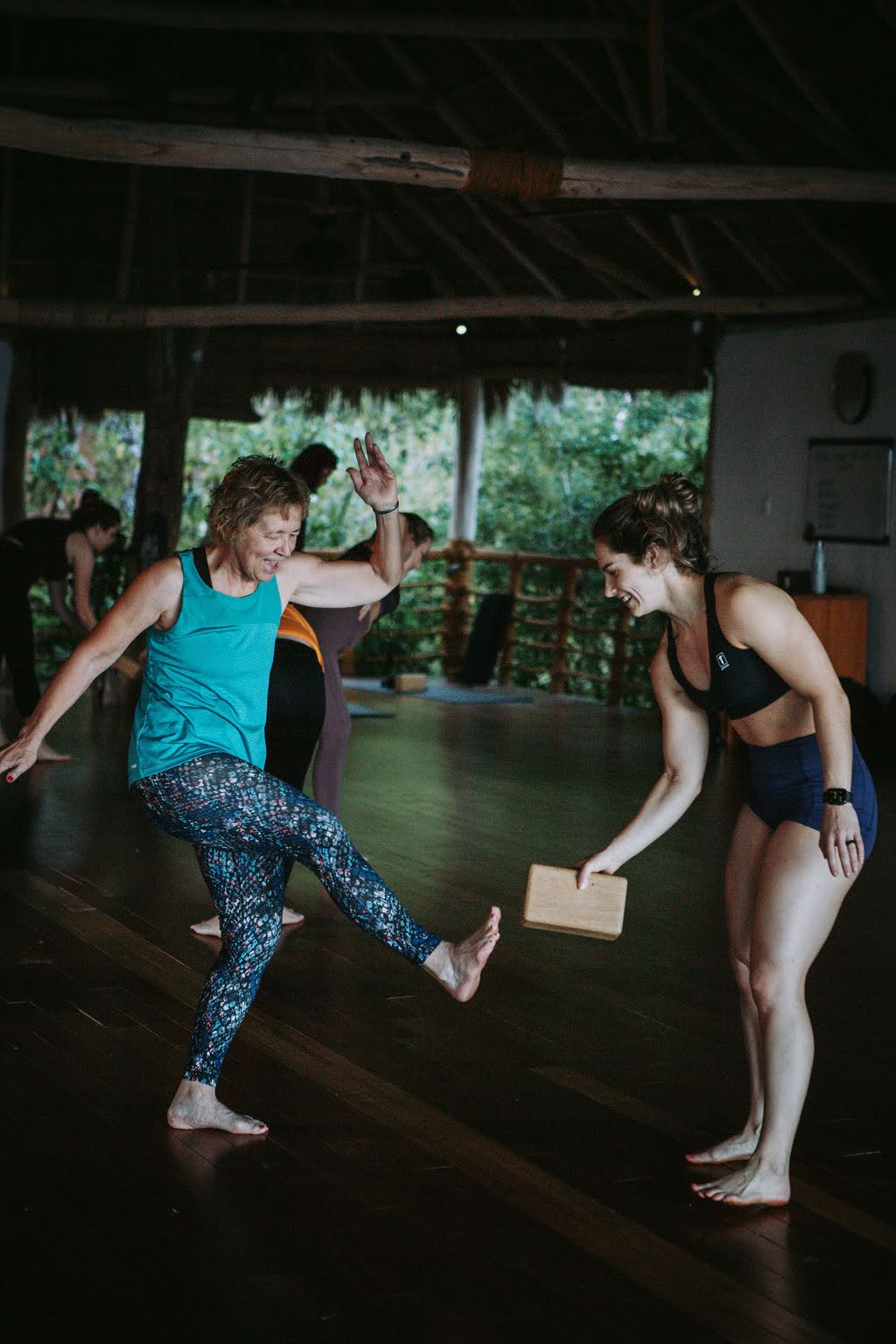 This is not for you if...
This program is not for those who…
Do not have the time and energy for an immersive and deep program, designed to deeply transform all aspects of life
Are not ready or willing to change
Are not ready or willing to take ownership for their own emotional experience and life, and take the necessary and sometimes hard steps into more power
Want a traditional yoga training focused on asana and fitness
Are looking for a prescriptive and linear method of teaching, rather than an organic and intuitive process
This course is intense and time consuming. There will be weekly coursework to be completed in between initiations. Please be ready and able to commit to the time and intensity of the program. If you wish to be certified via yoga alliance, no portions may be missed.
Prerequisites:
✔ 1+ years of consistent yoga practice
✔ Experience and commitment to your own healing work
At least one year of consistent yoga/dance/meditation/spiritual practice
✔A deep commitment to taking care of your body, heart, mine, & spirit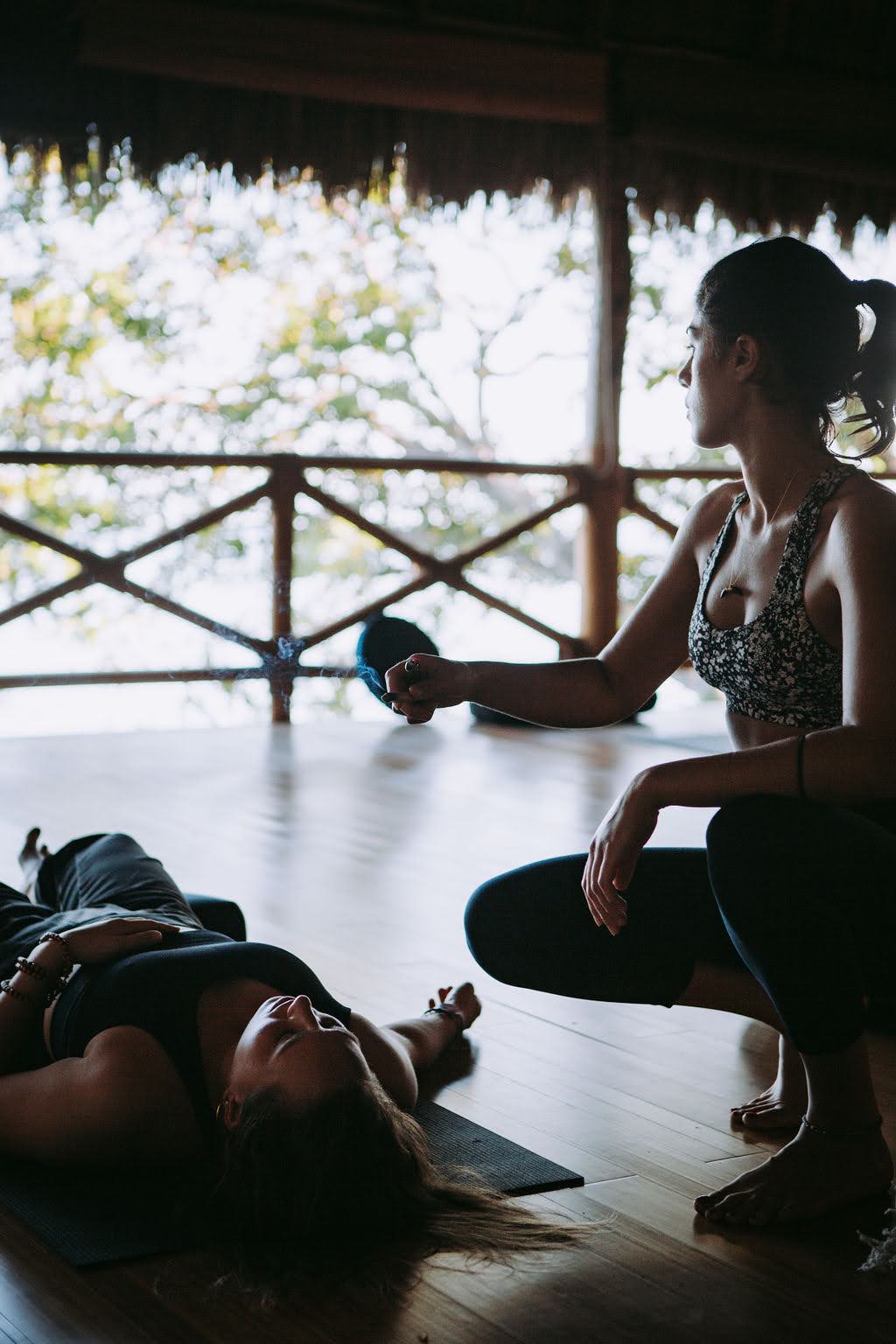 Transformative, cathartic, inspirational, affirming, grounding, and luscious! I was told by friends that Yoga Teacher Training would change my life, but it was hard to understand what they meant. From this training, I gained family, community, connection, insight, and purpose. I have learned how to care for myself, how to show up with authenticity and heart, and how to share what I love about yoga with others. I never anticipated going on to be a teacher…and yet, now I feel compelled to find a way to continue to grow and learn. I long to give back!
Investment
You are worth investing in.
We offer sliding scale rates where you can choose how much you'd like to invest in the experience depending on your current financial needs ❤️
Take a breath, feel your body, and choose a price that resonates from below:

🌚 Lunar Investment
You are meeting your basic needs for financial conservation and helping us meet ours! We see you and appreciate you:
$2220

🌞 Solar Investment
For those who are in a state of financial steadiness & resource. Your gift helps us meet our goals as an organization:
$3330

👽 Cosmic Investment
For those experiencing financial abundance. You are in the flow and eager to share the love.
$4440 
This training was one of the most beautiful and powerful experiences of my life. Kaity is probably the most intelligent, wise, compassionate teacher and leader in the world (not kidding!) I am now proud to be a YTT 200hr Yoga Teacher, but mostly, a better human.
This has been an amazing, transformative yoga teacher training. It has given me more than what I ever expected. I found that my body is strong and capable, and that I can honor and love my body and not push so hard. The training was so well planned, organized, presented, led, and facilitated. It led me on a path to become my authentic self and more spiritually connected.
This is where you awaken your alchemical magic.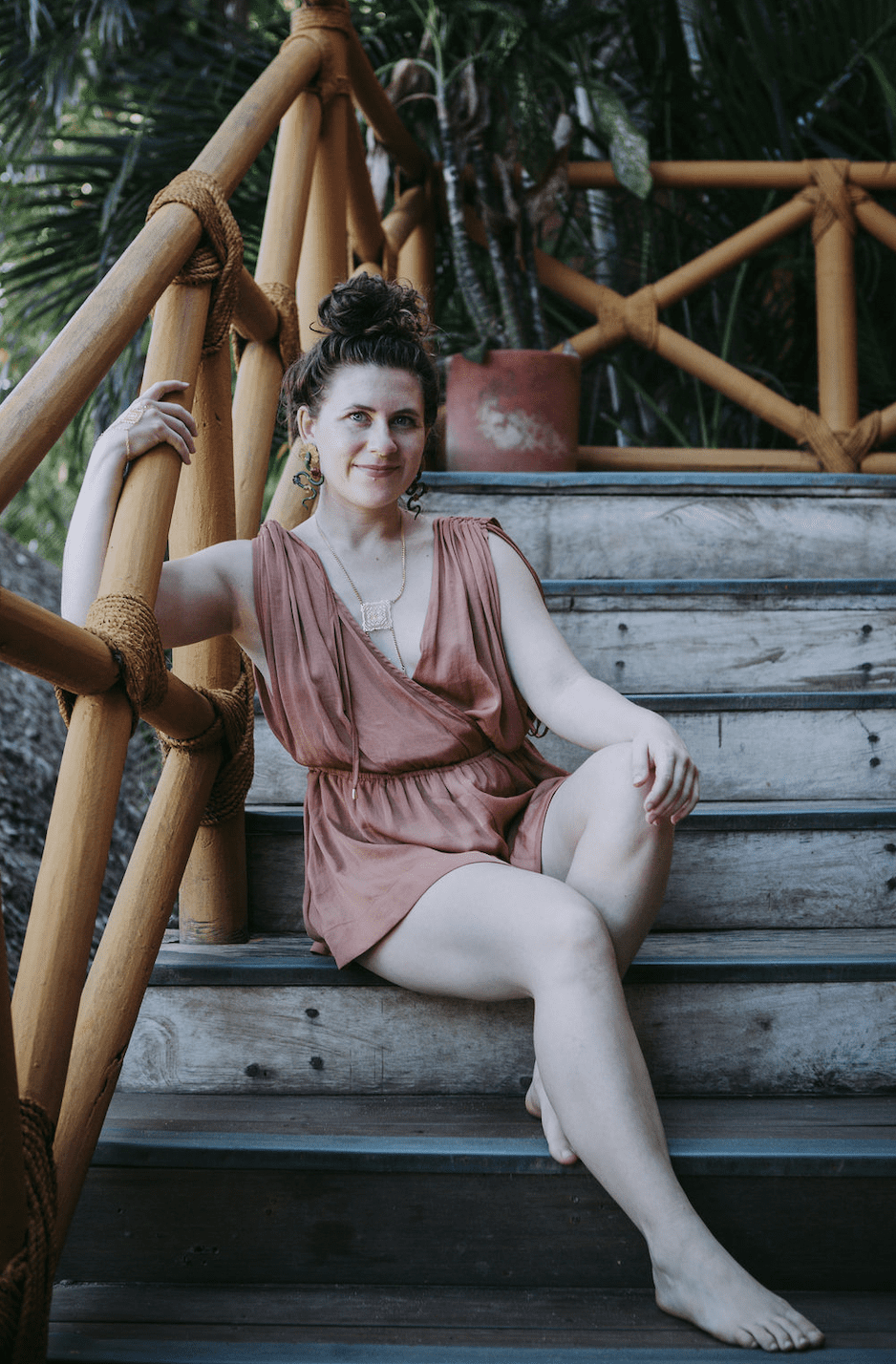 Hi, I'm Kaity
Thank you for your curiosity about our Somatic Yoga Teacher Training!
I believe you've landed on this webpage and are called to this work for a reason.
I was initiated into the journey of yoga and somatics during my personal process of healing from trauma and mental health imbalances. This work has been a game changer, not just for healing trauma but for allowing me to EXPAND into the vibrant woman I am today.
Here at Her Temple, you are your own healer. Our Training simply offer you tools, support, guidance, and space for activating your healing super powers and sharing your gifts back with the world. 
If you feel blocked in loving yourself deeply, feel stuck around manifesting your dreams into reality, want to have better sex and relationships, want to feel more passionately alive, want to help your body let go of chronic pain and tension,  and want to stop feeling small and powerless in your life, THEN this is the space for you.
Do I have to join all of the modules?
Yes, when you sign up you are committing to all modules. It is required for certification, and creates a cohesive, committed community of students (which is arguably one of the best parts of the training!) The Embodiment Retreat is encouraged but not required.
How much homework is there between initiations?
We prefer to use the term SoulWork, as opposed to homework 😉 There will be reading assignments, yoga practices, reflection exercises, pre-recorded lectures, live-online class, and teaching practice hours that are required between initiations.
It amounts to 5-10 hours of course work per week.
What is required for certification?
You'll be required to complete all of the training modules, in addition to 10 Practicum Teaching Hours during mentorship. The Practicum will be supported by additional supervision and mentorship, included in your training costs.
What is included in the Integrative Mentorship?
The mentorship is the portion of the training where you're invited to INTEGRATE all of the many skills you've learned and embodied through offering yoga classes to real-life students. There are 10 practicum hours required for certification.
These hours are supported by group mentorship calls where you'll be supported in continuing to refine your teaching skills, gain confidence in your teaching, and heal through the initiation of true embodied leadership. Think of this part of the program as the bridge that takes eases you from our immersive training container into your role as a teacher out in the world.
These practicum hours must be completed by our final mentorship call (July, 2023).
How much of the course is online?
There will be live-online anatomy immersions in between initiations, pre-recorded video materials, an online community, and mentorship will be online. The core of this class is predominately in person.
I can't make the live-online classes and calls. Can I still participate?
For certification, you will be required to attend at least 50% of all live-online classes and all in-person initiations. There are pre-recorded yoga classes to take as a part of certification as well 🙂
Please get in touch if you'd like to join but aren't sure you'll be able to make the live classes. kaity@hertemplehealing.com
How much does the embodiment retreat cost?
The retreat is an optional add-on and price will vary depending on your accommodation choice. 
It will be located at Xinalani Retreat Center. You can read more and sign up here.
There is no guarantee that there will be space for you to join, but if we fill up you'll be added to the top of the waitlist for the following year.
Is the embodiment retreat required?
The embodiment retreat is not required for certification. However, it's highly encouraged for you to come if you can make it.
Is mentorship required?
Mentorship are required for your 250 hour certification. However, if you would like to audit the course and not participate in mentorship, that is an option. You simply will not be certified at the end of the program.
Is this program certified through Yoga Alliance.
Yes. We are a 200-Hour Registered Yoga School through Yoga Alliance.
Upon completion of the training, what will I be certified in?
So long as you adequately complete all of the class hours and assignments, you will be a Certified 250 Hour Somatic Yoga Teacher + a 200 Hour RYT via yoga alliance.
What is your cancellation policy?
All deposits are non-refundable. Should you need to cancel 90 days before the training begins, you'll receive a full refund minus your deposit. From 60-90 days prior to the training, you'll receive a 50% refund. No refunds are provided within two months of the training start date.
For payment plans, you are committing to 100% of payments regardless of whether you choose to complete to entire program or not. Payment plans cannot be discontinued.
This Teacher Training was an amazing experience. Kaity's grounded and caring personality really created a safe space for all of us to be authentically ourselves. Her presence allowed for me to be open. The training has definitely equipped me with the tools and knowledge to teach.
I came to this training with an open heart and no expectation other than to receive and embrace everything that came my way. I have left with more than I could have ever dreamt of and friendships that many only dream of. Thank you Kaity, you have made me, me.
I feel more than prepared to teach and share this knowledge with students and seekers. Kaity's breadth of resources and information was weaved seamlessly through the training at just the right time. Her ability to be present, transparent, and consistent was an integral part of the alchemical transformations that occurred in my personal experience and as I witnessed of other participants. I highly recommend this program for any yogi's inspired to teach from a place of confidence and open-hearted service.
Curious if this is right for you?
Let's Connect!
If you'd like to meet Kaity and learn more about the training, please send an email to kaity@hertemplehealing.com to schedule a brief, complimentary phone call or zoom meeting.
This is a great way to find out if the immersion is the right fit for you and get all of your questions answered!