Kitchari is an Ayurvedic superfood used for cleansing and nourishing the tissues of the body. And while kitchari can be eaten all year round and by any dosha, this recipe in particular is wonderful for Autumn and early winter as it contains spices and ingredients known to help pacify vata dosha.
Vata dosha is made up of the elements of ether and air. When we have high vata, we may experience an increase in symptoms of anxiety, panic, fear, constipation, dryness, restlessness, and nerve pain. For a Vata person, these symptoms may amplify even more in the fall time. By eating a vata pacifying diet, we are helping restore balance to our bodies by bringing in more of the earth, water, and fire elements.
This recipe is sweet, warm, nourishing, and grounding. It's been my absolute favorite way to enjoy kitchari this season.
I created this recipe using my instant pot. If you don't have an instant pot, I highly recommend getting one. It is my go-to for ayurvedic, nourishing one-pot meals and I use it several times per week. If you would like to make this recipe without an instant pot, use my original kitchari recipe and adapt the ingredients to match the ones below. You can use the same cooking process, just switch the ingredients out.
Enjoy!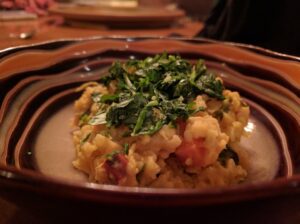 Makes: 4 Servings
Preparation Time: 25 minutes
Cook time: 9 minutes on high pressure
ORGANIC INGREDIENTS
Butternut squash (small to medium) – can substitute with a kabocha squash or sweet potato

1 onion

1 clove garlic

½ cup yellow split mung dahl beans (soaked for 4 hours or overnight)

1 cup basmati rice (rinsed)

3 TBSP ghee (this is my favorite

high-quality ghee

brand)

½ tsp Cumin

½

tsp Coriander

½ tsp Ginger

1 tsp Turmeric

1 tsp Cinnamon

¼

tsp Nutmeg

1 tsp pink Himalayan Sea salt

4 cups (32 oz) chicken broth, bone broth, or veggie broth (for a vegetarian/vegan option)
INSTRUCTIONS
Take a few breaths and send some love and gratitude to your ingredients. When we cook in a state of love and ease, our food tastes better and our body begins to prepare itself for digestion.

Peel the butternut squash with a potato peeler. Cut off the bottom and top of the squash.

Half the squash. Dice into .5"

Dice the onion.

Mince the garlic.

Add ghee, squash, onion, and garlic to the instant pot and sauté until the onion begins to turn transparent.

Add in the spices and soaked mung beans (rinse first).

Sauté for 2-3 minutes, stirring occasionally.

Add in the rice and broth. Stir until well mixed.

Turn your instant pot on high pressure and cook for 9 minutes. Be sure your pressure valve is closed.

Do a natural release for 5-10 minutes, and then quick release the rest of the pressure.

Remove the lid. Garnish with a little extra ghee and cinnamon and enjoy!
Let me below if you have made Kitchari and what you thought of it and if you found this article beneficial, please spread the love and share it with your friends!
If you feel imbalanced, stressed, anxious, or just plain STUCK, join us in this free email series, where you'll receive 7 videos over 7 days to help you tone your Vagus Nerve.✨