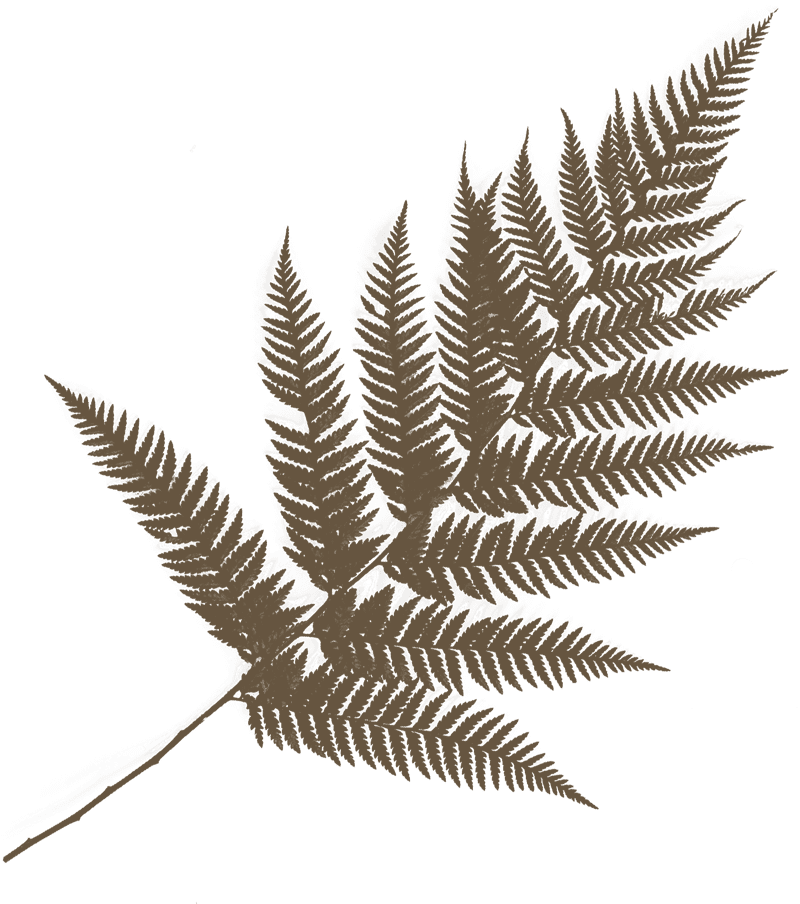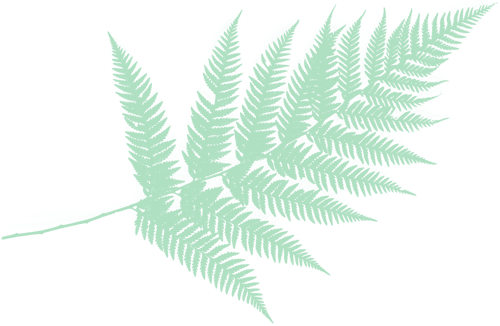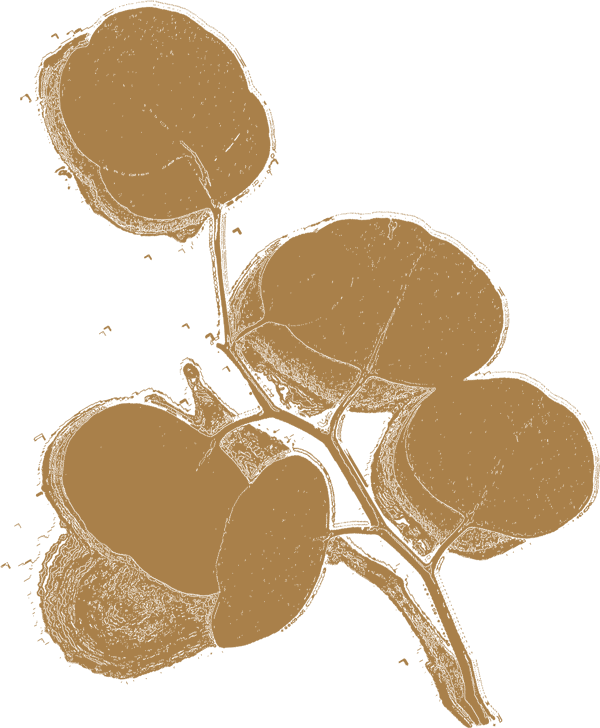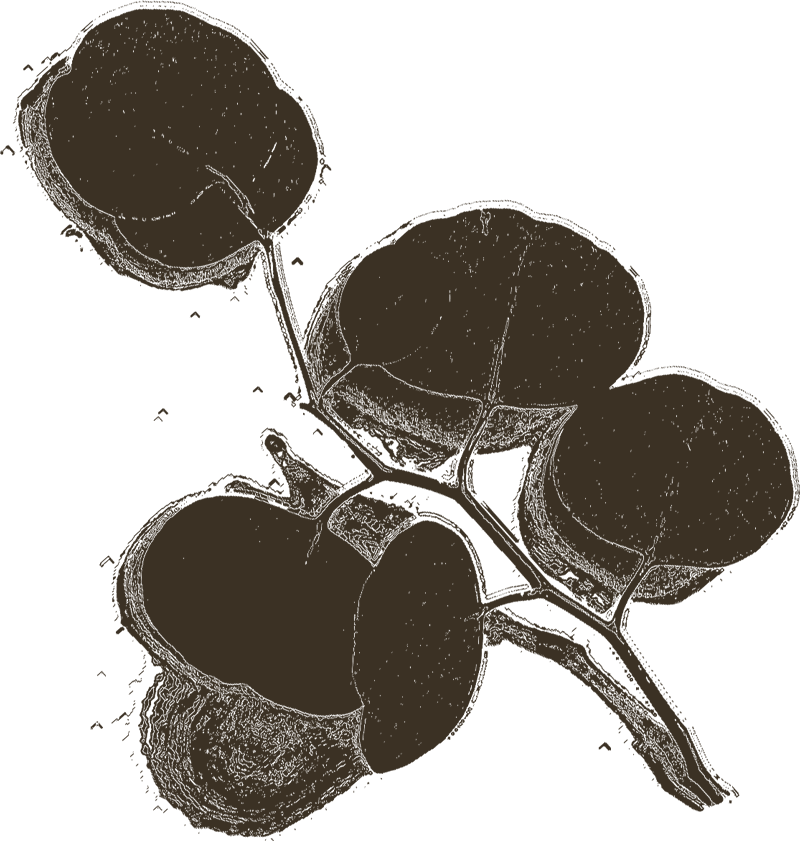 A Year Long Somatic Yoga Therapy Program
Learn How to Alchemize Trauma into Soul Power!
NEXT COHORT BEGINS JULY 2022
Become a Somatic Yoga Therapy

™
Practitioner
You are a Healer by Nature…
Yet sometimes your own unresolved pain bodies hold you back from your fullest potential in health, business, and love.
You are a bright, joyful, and shiny human who deserves to feel SAFE and SUPPORTED enough to embody your FULLEST SELF EXPRESSION.
And, your fulfillment in business, life, and love is waiting for you on the other side of these blockages.
You are powerful beyond measure, and the Earth needs you in your fullest expression now more than ever!
Do you long to alchemize what is keeping you stuck and limited?
Do you want to expand into the most radiant and empowered version of yourself you've ever known?
The work all resolves around reclaiming your pleasure power, rewriting your internal narrative to align with your Soul's truth, and stepping into your intuitive, powerful, sovereign Self. 
Become a Somatic Yoga Therapy™ Practitioner
Join our integrative yoga therapy and self healing training
revolved around alchemizing your nervous system's blockages
into 
your greatest gifts and super powers.
Receive REAL LIFE tools and methods from ancient wisdom and modern science to help you:
– up-level your impact as a leader and healer
– create transformational one-on-one therapeutic work
– run your own successful workshops and retreats
– develop your dream business
– and, manifest the life, love, and abundance you were born for.

EMBODY More Power, Pleasure, and Purpose than you though possible

RECLAIM your Soul Power, your Sacred Sensuality, and your Body as a living, breathing vehicle of Love.

RESTORE Balance in Your Nervous System (and WHOLE being)
What if it were possible to…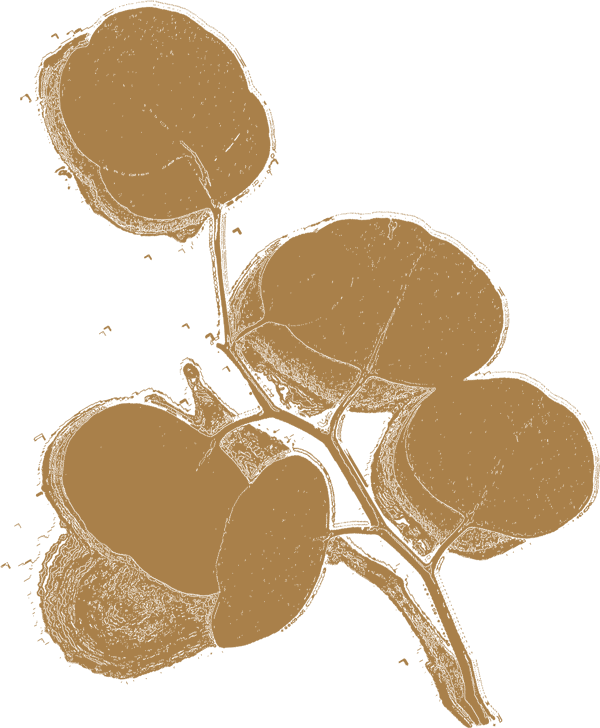 Feel powerful, radiant, and fiercely alive
Release the shame and guilt that keeps you small, disempowered, and quiet
Love and accept ALL of yourself unconditionally
Heal old pain bodies and launch forward into post traumatic growth, reclaiming your body as your sovereign Temple
Deepen your spirituality, intuition, and healing presence beyond imagination
Have a passionate, trustworthy, and healthy relationship with your partner(s) or future partner(s)
Awaken and embolden your sexuality beyond fear or shame and have a thriving sex life with yourself and your sexual partner(s).
Make an abundant living while DOING WHAT YOU LOVE
Become a Somatic Yoga Therapy™ Practitioner
This training is:
✨ A space where the soulful and the somatic meet.
✨ An incubator for deep yogic wisdom to come to live in your living, breathing body.
✨ An initiation into more power, pleasure, and purpose than you've ever experienced.
✨ And, an experiential Love Lab for your deepest transformation.
The Trauma Alchemy Training is designed to wake more of your soul essence up for deeper intuition, healing presence, and love than you've ever felt before.
You are invited to say yes. Awaken to your fullest self expression and SOUL POWER. Integrate your past wounds through love and pleasure. Become the leader you were born to be.
About the Program
An integrative yoga therapy and self healing program revolved around alchemizing your nervous system's blockages into your greatest gifts and super powers – all from a soulful, spiritual, and holistic lens.
The program includes a deep dive into your own healing process, with transformative and powerful practices to help you step more fully into your sovereign pleasure power.
It also includes countless healing tools, methodologies, and applications for you to:
– up-level your yoga classes
– create transformational one-on-one therapeutic work
– run your own successful workshops and retreats
– develop your dream business, and manifest the life, love, and abundance you were born for.
What You'll Learn
Yoga therapy

Intuitive yoga, dance, and embodiment practices

Ayurveda & nature connection

Somatic nervous system integration practices (top-down/cognitive and bottom-up/body-based approaches)

Pleasure practices
Love, sex, and relationship healing
Energy work & cultivating healing presence
Sound healing & breathwork
Yoga Nidra and p

rogressive Relaxation technique

Women's health, moon cycle education, prenatal and postnatal support
Coaching skills
Shadow work
Business & leadership development
Divine feminine energy work & sound healing practices
Transformative ritual and ceremony
Our Approach
Trauma is all the life experiences that were too much, too fast, too soon for you to integrate.
These experiences stay in the body until they feel safe enough to process and metabolize.
As an intuitive and trauma-sensitive journey, we honor the pace that your body wants to set for healing. Slow and easy is the way.
We allow the wisdom of the body to guide our work, because your wise, intelligent body has all it needs for healing within it. Her Temple is here to simply support you embodying and reclaiming your natural state of integration and health.
All of you is welcome. And safety, ease, and love are our guiding forces for your organic healing.
Prerequisites
Yoga teacher training certification or experience (highly suggested)

Experience and commitment to your own healing work
At least one year of consistent yoga/dance/meditation/spiritual practice
Some experience in leading group or one-to-one fitness, healing, coaching, or counseling work
12 Alchemical Initiations
1.
Your Tantric Nervous System
2022 DATES TBA (online)
2.
Ayurveda & the Medicine of Mother Earth
2022 DATES TBA (online)
3.
Myofascial Release & Emotional Anatomy
2022 DATES TBA (online)
4.
Trauma Alchemy & Soul Skills for One-on-One Work
2022 DATES TBA (online)
5.
Yoga Nidra & Progressive Relaxation
2022 DATES TBA (online)
6.
Yoga Therapy
2022 DATES TBA (online or in-person optional in Colorado)
7.
Yoga Psychology, Mythology, and Philosophy
2022 DATES TBA (online)
8.
Embodiment Retreat (in-person module in Mexico)
2022 DATES TBA (in-person)
9.
Sacred Sexuality & Radiant Relationships
2022 DATES TBA (online)
10.
The SHE: Womb Care, Fertility, Menopause, Motherhood, & Pregnancy
2022 DATES TBA (online)
11.
Energy, Intuition, & Ritual Space
2022 DATES TBA (online)
12.
Expansive Entrepreneurship – Money, Business, and Abundance
2022 DATES TBA (online or in-person optional in Colorado)
What's Included?
Make the most of your experience with Her Temple
Embodiment Retreat
Initiation #8: An Oceanic Immersion to Deepen, Transform, and Evolve
DATES TBA at Xinalani Retreat Center in Mexico
Immerse in paradise for a week to embody the trauma alchemy practices in community, deepen your Yoga Therapy skills, and connect deeper with your Sovereign Self.
Additional expenses for travel, room, & board.
This retreat is REQUIRED for certification, but optional for students who want to go through the program without certification.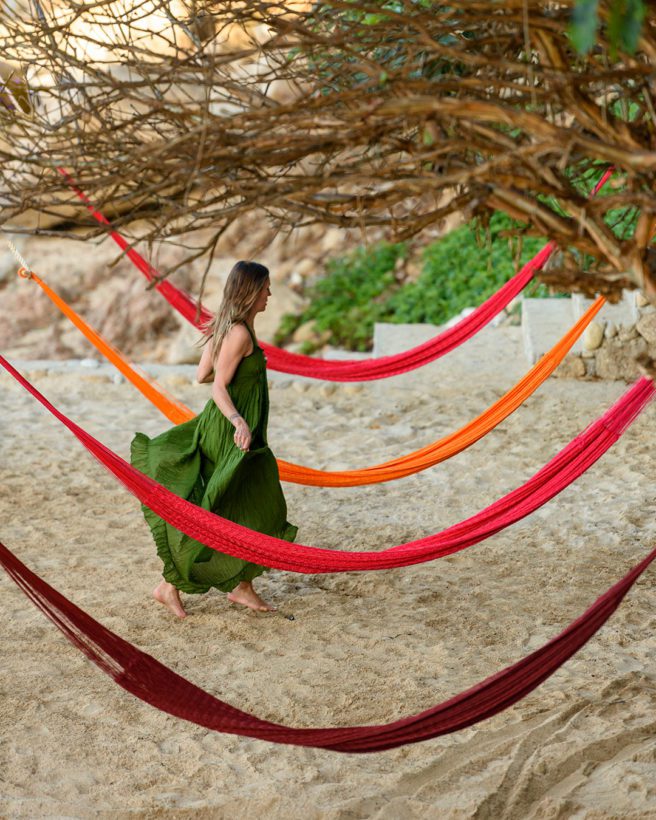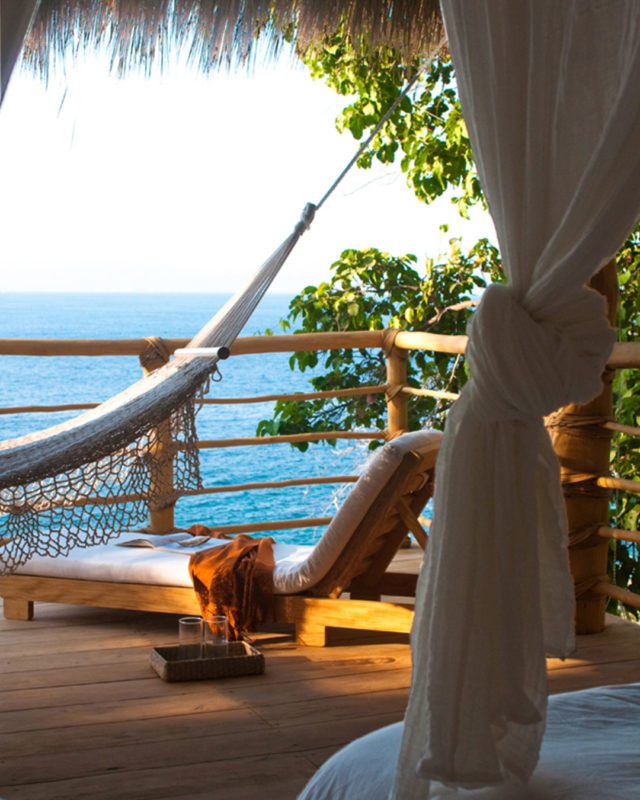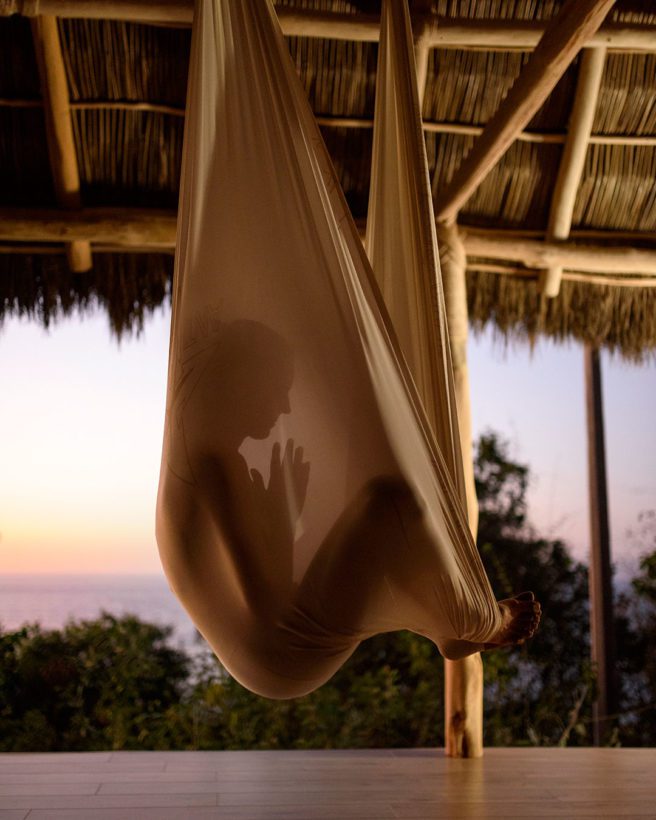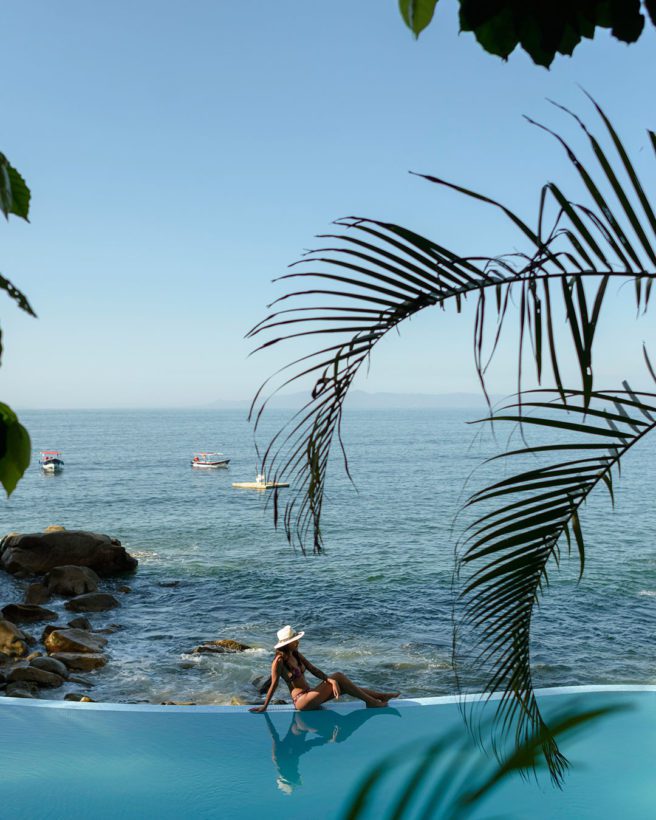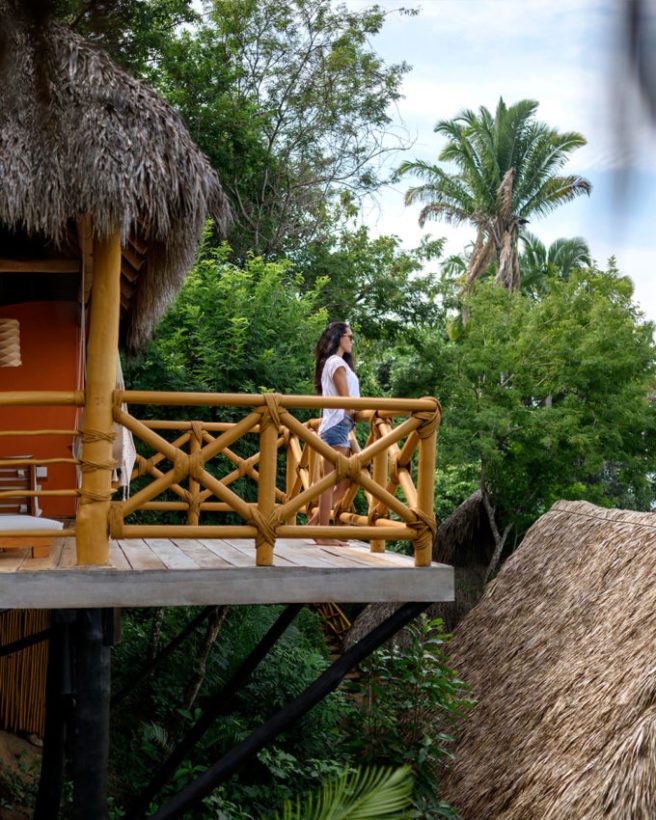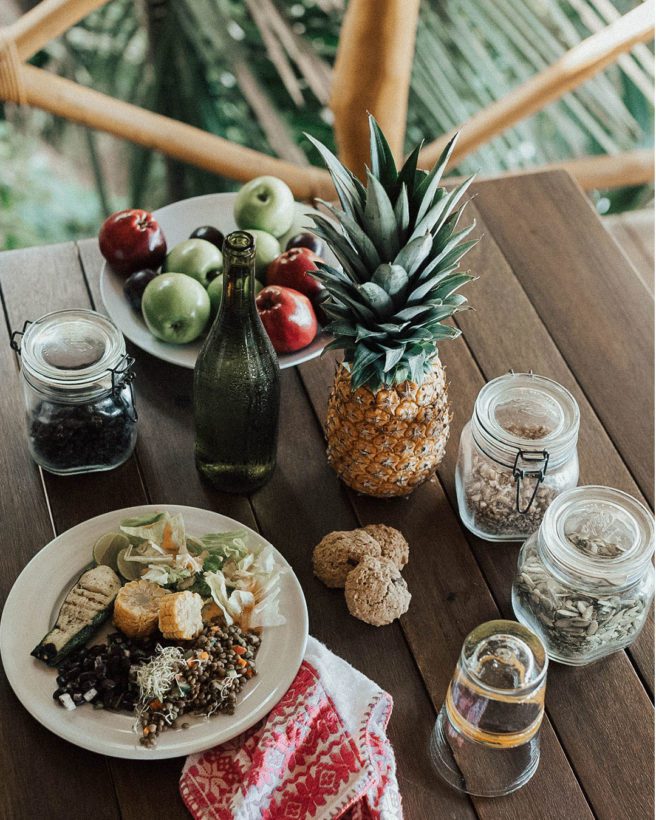 Do I have to join all of the modules?
Yes, when you sign up you are committing to all 12 modules. It is required for certification, and creates a cohesive, committed group of individuals.
In addition, all modules must be taken in order, because each module builds on the previous modules content. For example, you can't take module 4 without taking 1-3 before hand.
Should you join for some of the modules and decide to pause your training until the following year, we cannot guarantee the program formatting or module structure will remain the same.
How much homework is there between modules?
We prefer to use the term SoulWork, as opposed to homework 😉 There will be some reading assignments, guided practices, reflection exercises, and (in the latter half of the program) practicum hours that are required between modules. There may also be an occasional live zoom call with a special topic or guest speaker.
How much of the course is online?
With the exception of the Embodiment Retreat, most modules are held as four day intensives with 3 hours of class in the mornings and 3 hours of class in the afternoons. Some of these modules have the option to join in person, or you can remain online only.
They are spacious and experiential to prevent zoom fatigue AND to give you the deepest learning experience possible. Breaks, pacing, and self care are very important parts of this professional training.
Our online classes are are often not simply lectures, but engaging and healing containers for you to practice methods and apply new knowledge for your highest growth and evolution.
I can't make the live classes and calls. Can I still participate?
It is really important to prioritize being at the classes live. There will be practices and break-out groups that truly need to be experienced live to make an impact.
That being said, we understand that you may be in a different timezone or have different work obligations to navigate around. Please get in touch if you'd like to join but aren't sure you'll be able to make the live classes. Our contact information is at the bottom of this page.
How much does the embodiment retreat cost?
The retreat will be an additional $135-$450 per night depending on the accommodations of your choice.
It will be located at Xinalani Retreat Center.
Is the embodiment retreat required?
The embodiment retreat is required for certification. However, if you would like to take our online modules and not attend the retreat, that is okay. You simply will not be certified at the end of the program.
Can people outside of the program attend the retreat?
Yes. However, students in the program get first dibs on spots for the Embodiment Retreat. And there will be special workshops and intensives during the retreat for Trauma Alchemy students only. At a certain date, should we not fill all the retreat spaces, we will open the retreat up to other students and the general public. You are welcome to bring your partner, a friend, or a family member at an additional cost. We will send more information on this as we get closer to the retreat date.
The retreat is an additional expense for travel and lodging – see above.
Is this program certified through Yoga Alliance or I-AYT?
It is not. While designing the program, Her Temple did not want to feel restricted to the guidelines that larger organizations put into place around credentials. This program is, however, very complimentary to individuals who are enrolled in (or have completed) their 300 hour YTT, Ayurveda school, or Yoga Therapy program. It is also a compliment to practicing psychologists, body workers, energy workers, and life coaches. 
Upon completion of the training, what will I be certified in?
Upon completion of all of the class hours and assignments, you will be a Certified Somatic Yoga Therapy™ Practitioner.
If you are a yoga teacher and have completed your 200 hour teacher training, you would additionally be an advanced teacher of therapeutic yoga, and/or an advanced teacher of somatic yoga.
I don't have my 200 hour yoga teacher training. Can I still join?
Yes. While we strongly encourage participants to have their 200 hour training before joining the program, it is not required. The 200 hour training provides you with a strong foundation that this more advanced course can build upon. 
That being said, as long as you have a basic background with yoga (philosophically as well as physically), the healing arts, and/or teaching movement/meditation in a professional setting we will consider you in our enrollment process.
Kaity offers a 200 hour yoga teacher training that is very complimentary to this course. If you are interested in getting certified before, during, or after your Trauma Alchemy Training, you can email us to be added to the next training waitlist.
I identify as queer/non-binary. How does the program create safety around gender and sexual identity?
As a Her Temple student, your safety is our highest priority. We commit to creating and upholding an inclusive and educated space where you can show up as you are without worry or fear around micro or macro aggressions around your gender expression or sexuality. The program holds space for integrating trauma around gender and sexuality for both binary and non-binary beings, and for folks in the LGBTQIA+ spectrum or who identify as heterosexual.
I am a BIPOC. How does the program create safety around race and ethnicity?
As a Her Temple student, your safety is our highest priority. We commit to creating and upholding an inclusive and educated space where you can show up as you are without worry or fear around micro or macro aggressions around your race, skin color, or ethnicity. The program holds space for education and the integration of trauma around racism for BIPOC, white folks, and beyond.
What is your cancellation policy?
All deposits are non-refundable. Should you need to cancel 90 days before the training begins, you'll receive a full refund minus your deposit. From 60-90 days prior to the training, you'll receive a 50% refund. No refunds are provided within two months of the training start date.
Healing for survivors, designed by a survivor. Hi, I'm Kaity
Thank you for your curiosity about the Trauma Alchemy Training.
I created this program to be a sanctuary for you to alchemize past trauma into Soul Power AND an experiential LoveLab for upleveling your presence and work as a healer. 
As a survivor of sexual trauma, I understand the shadow realm of trauma through my own hands on experience. I've also held space for countless individuals to heal and recover in my work as a somatic yoga therapist.
I am known for my soulful, gentle, earthy, open hearted presence as a healer, teacher, and guide. I deeply honor the somatic wisdom in the body, and lean in on that to guide me and my clients through the stages of healing.
If you feel blocked in loving yourself deeply, feel stuck around manifesting your dreams into reality, want to have better sex and relationships, to feel more passionately alive, and to stop feeling small and powerless in your life THEN this is the space for you.
"Kaity has a presence like no one I have ever met, she embodies what it means to be a true Yogini. She creates such an incredible community for learning, growing, and sharing.."
"Spending that time with you was indescribably the most therapeutic, calming, centering, graceful, complete state of relaxation, non judgmental, pure bliss. You regrouped my thoughts and relaxed my body and mind. I haven't smiled in a while and I went to work smiling. I was able to pour genuine care into my patients and coworkers, my cortisol levels were down, and my thoughts weren't racing. I felt solid, no one could shake me. My brain and body were connecting, I was able to speak and make sense, and my self esteem was intact. I have not felt like this for a very long time, or ever.I just want you to know just how valuable you are. ❤ More than any doctor, medication or any of all the things I've tried. You have a true gift, and are very talented and intuitive.."
"Kaity is one of the most amazing people I have met. She is full of compassion, knowledgeable, ageless, available, passionate, creative and humble. She is a beautiful soul that will lead you to a healing path. I highly recommend her for either a teacher training, a retreat, a therapy or at least a yoga class. I had the chance to be one of her student for a 200 hour yoga teacher training and I am changed for life 💕."
"I booked a session with Kaity to help me get through some mental blocks. I was struggling with feelings of guilt and anxiety around past events. My brain feeling cramped with constant thoughts. Since we've started working together, I've noticed huge shifts in who I am as a person. One of my biggest realizations has been that my guilt has purpose - it is there to help me pause & be still before making decisions. I love Kaity as a person, and how she shows up in the world. I love how she creates a safe place to work through past experiences that feel to large to process by myself. I've learned a lot about how the body holds onto emotions and past experiences when we don't let them move through. I have recommended Kaity to SO many people already!"
"I decided to book a session with Kaity after being a student in many of her yoga classes. When we first started working together, my biggest struggles were depression, anxiety, and childhood issues showing up in my adult life. My heart hurt and my mind felt very busy and chaotic. Since working with Kaity, my body and heart feel stronger, and my mind feels less complicated. What I've enjoyed the most is Kaity's care, love, and patience. It has been very worthwhile time spent. I've been through a number of counselors and Kaity is THE one!"
Meet the Dream Team
Your Teachers and Growth Guides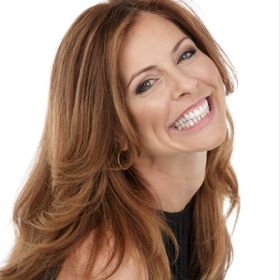 In 1997, Ena took her first yoga class and knew it would be a lifelong path.  Having endured anxiety throughout her 20's as a professional actress in Los Angeles, she turned to yoga. Through yoga, she found she no longer needed  a prescription she had taken for years due to the therapeutic effects of the practice. 
Ena has been teaching therapeutic yoga for over 20 years and is a certified yoga therapist who works full time with private clients.
Her therapeutic work includes clients with MS, Muscular Dystrophy, cancer, nervous system issues, anxiety, depression, Bi-Polar, sensory integration issues, TBI and PTS. She works off-site, as well. for those whose conditions limit their mobility. In 2014, Ena entered the two year certification program in iRest®, a yogic meditation protocol used by the military today. She partnered with the VA to teach grant-sponsored veterans groups from 2014-2017.  InnerBalance Addiction Recovery Center, 2018-2019 in addition to others.  Ena consistently weaves iRest® into her private practice for personal inquiry and symptoms of trauma.
In the Trauma Alchemy Training, Ena is a lead facilitator on yoga psychology, mythology, philosophy, yoga therapy, business development, relationships & sexuality, yoga nidra, and trauma healing.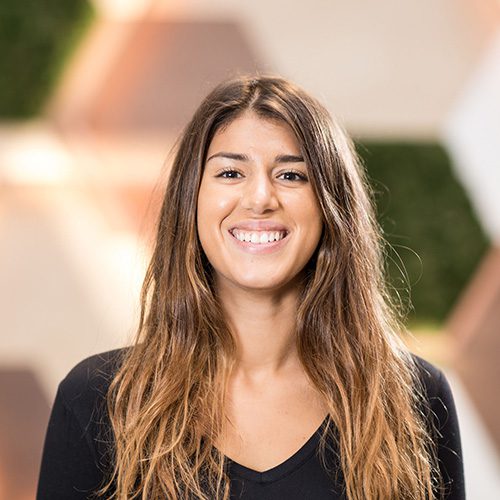 Iysha Nobes is a compassionate Yoga Therapist who is committed to teaching empowering and transformative group yoga classes, private yoga therapy sessions and mindful meditation classes. Offering therapeutic yoga workshops and retreats all across the globe, Iysha works with a wide variety of clients to create long-lasting healing in the body and mind.
Born and raised in Kitchener, she has been practicing yoga since the age of 12, and started teaching yoga at the early age of 15. Since then, she has taught yoga all across Canada and the US, as well as South East Asia, and Latin America. After receiving her 200 hour certification at an Ashram in Bali, she went on to obtain her 500 hour certification as an "Advanced Teacher of Therapeutic Yoga" with the Kripalu School of Yoga in Massachusetts. She has also completed trainings with Integrative Yoga Therapy and Yandara Yoga Institute. Iysha now has over 800 hours of accredited yoga and somatic training. She uses her knowledge and skills to help improve the health & wellbeing of people worldwide.
In the Trauma Alchemy Training, Iysha is a lead facilitator on myofascial release, emotional anatomy, functional movement, and yoga therapy.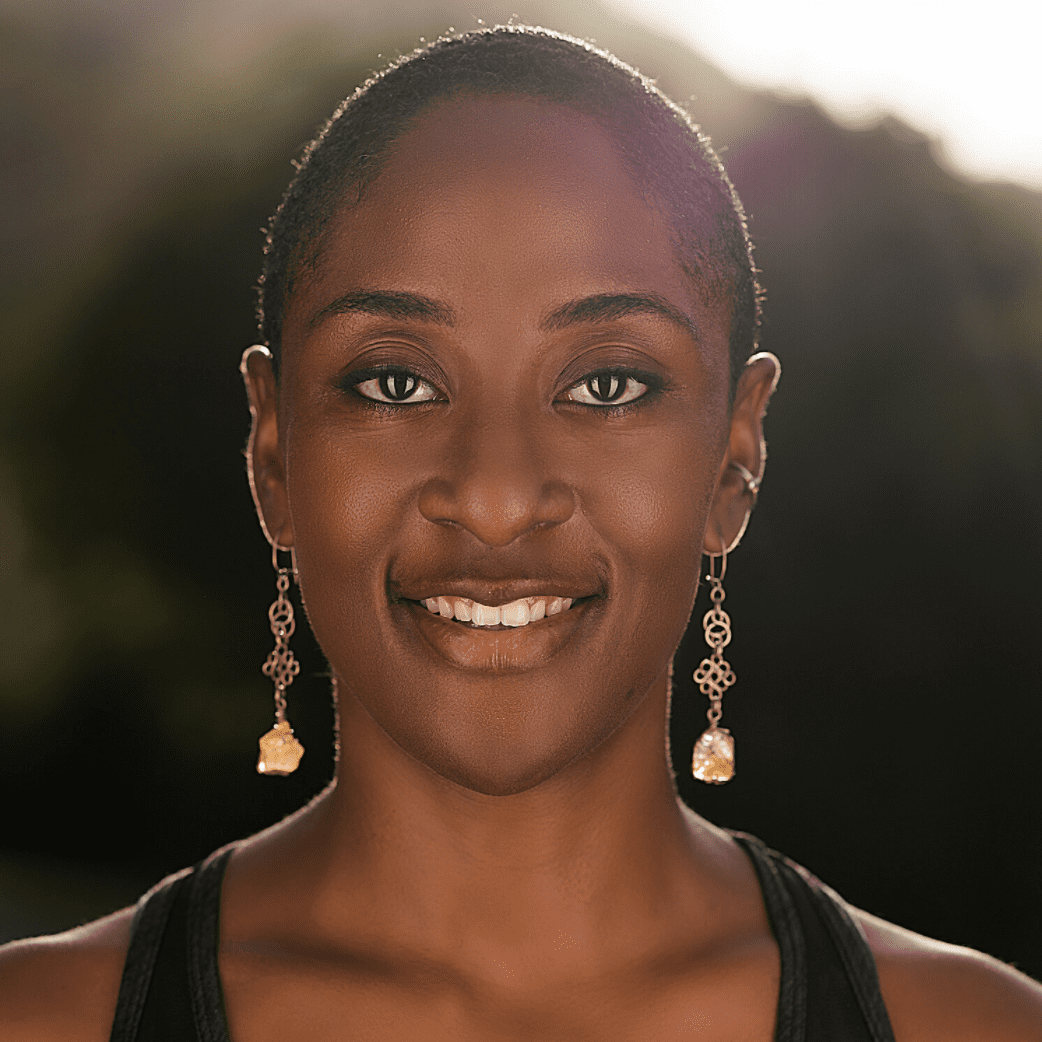 MaMalaika Maitland is a professional yoga therapist (1000hr), pregnancy, labour & postpartum doula and new mama. She has over a decade of experience teaching yoga and was recently recognized internationally as one of  20 Yoga Teachers of Color to Watch in 2020.
In 2011 she co-founded her studio, Spice Harmony Yoga, in Grenada alongside her parents, who are also certified yoga teachers. Through years of offering prenatal yoga at her studio she realized that there are a lack of resources for expecting mothers and their loved ones. Malaika began her path to becoming a doula in 2016 with an intensive led by International Center for Traditional Childbearing . In 2018 she began her latest doula training with Mama Glow.
Malaika holds a Bachelors in Studio Art from Smith College, Massachusetts and a Masters in Cultural Studies from the University of the West Indies, St. Augustine. Her photography, film and mixed-media artwork has been exhibited locally and internationally. She is also an official photographer for the Black Yoga Teachers Alliance Conferences. Through the interconnected facets of her work Malaika, seeks to create pathways for her clients and community to feel supported and foster deeper connections with themselves and one another. 
In the Trauma Alchemy Training, Malaika is a lead facilitator on women's cycles, prenatal & postnatal care, motherhood, & menopause.
Investment
You and your work are worth investing in.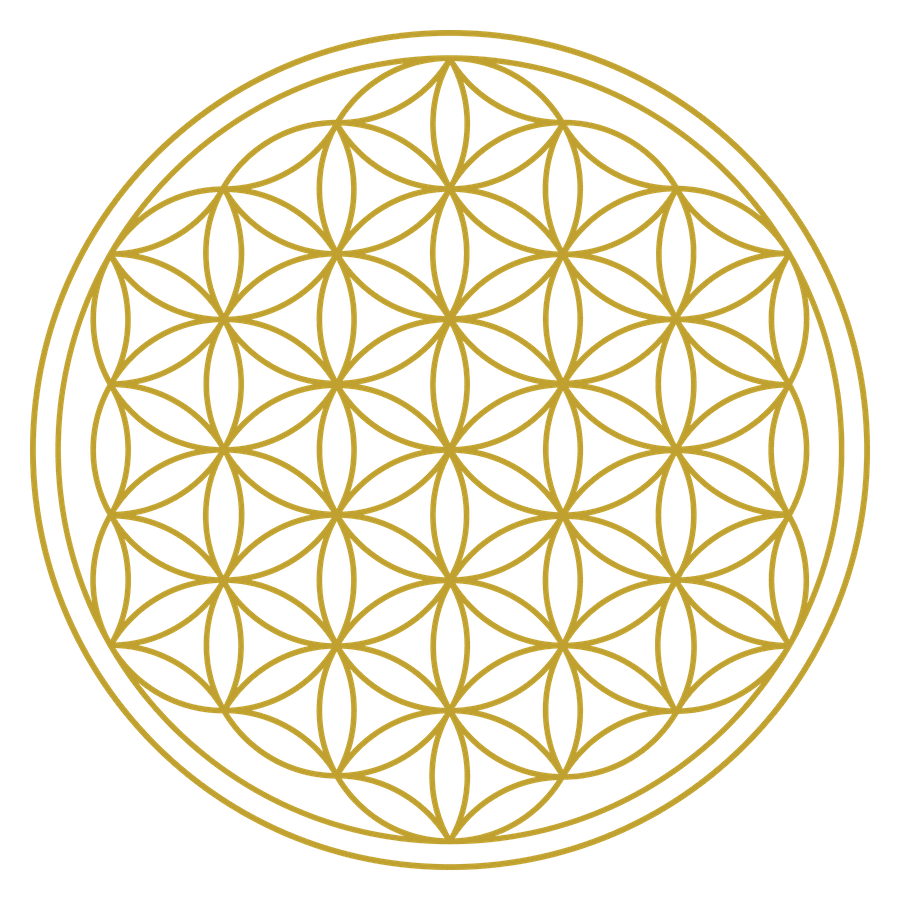 $8,880
or
$770 per module (payment plan)
Yoga Teacher Training graduates from Wild Earth Yoga Therapy are offered discounted rates.
Scholarships available for BIPOC, LGBTQIA, and individuals under financial hardship.
If you would like to gift a scholarship or sponsor a student in the program, please reach out to the Her Temple team.
Please enquire for more details.
Interested?
Let's Connect!
If you'd like to meet Kaity and learn more about the program, please send an email to kaity@bewildearth.com to schedule a brief, complimentary phone call or zoom meeting.
This is a great way to find out if the program is the right fit for you and get all of your burning questions answered!